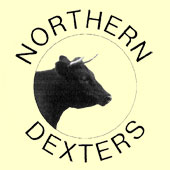 Welcome to the Northern Dexter Group.
About Dexter Cattle in the North of England.

The North of England Dexter Group was founded in 1978 by a small team of enthusiasts who kept Dexter cattle and were based in North Yorkshire. The group now covers a much wider area running from members on the Scottish borders in the North down to Stafford in the South.
We have members who only keep a couple of cattle to members with 50 + cattle who are selling meat on a commercial basis.


Some of our members are keen on showing their Dexters

This was the main way Dexters where promoted in the early days. Our founder members did much to put Dexter's on the map in the north. As a group we try to support them by running the show league, which rewards achievements in the show ring

Our group is now much larger than in those early days. As the breed has become more popular, our membership has continues to grow.

Dexters are the ideal small holders cow, they are an easy size to handle, can be kept on a small acreage, although they do need some shelter and will need supplementary feed in winter if kept outside.

What ever your interest, be it in showing, producing quality meat, or just want a couple of Dexter's to keep you grass down and, or provide you with milk for the family this is a wonderful breed and the ideal small holders cow.

As a group we have meetings through out the year, starting the year with our AGM and annual dinner & photo competition.

This is followed by our calf show in June.


We also try to fit a couple of other events in throughout the summer see Group news page, & we have newsletter at least twice a year.

The committee is always happy to give help and advice to prospective new Dexter owners.